Have you every wished Excel had functions to perform a Gage R&R study? This easy to use Excel add-in gives you reliable and easy to use functions for Gage R&R.
Reliable Industry Standard Algorithms
This add-in provides the ability to calculate variance components for a Gage R&R ANOVA crossed study. It uses the equations given in the Automotive Industry Action Group (AIAG) Measurement Systems Anlysis (MSA) Manual. These are the same equations  used by Minitab. Validation of the Gage R&R Excel add-in against minitab has been carried out. This has shown that for a range of different input datasets indentical results are obtained.
Easy to Use with Context Sensitive Help
Once installed you simply type "=grr" into any cell on any Excel spreadsheet. You will then see a list of relevant functions appear, just like the native Excel functions. Select from the list to see more information about what each function does.

Once you've selected the function you need, tooltip help guides you to input your study data correctly.

Input validation ensures the inputs make sense, for example the part id column has the same number of entres as the measurement values column. If there is a mistake this is flagged and results are not given until it is corrected.
Easy to install
Once you've downloaded the add-in it's really easy to install. Just unzip the file 'GageRR.xlam', load Excel and go to File > Options > Add-Ins.
Then click    Manage > Excel Add-ins > Go… to open the add-ins dialogue: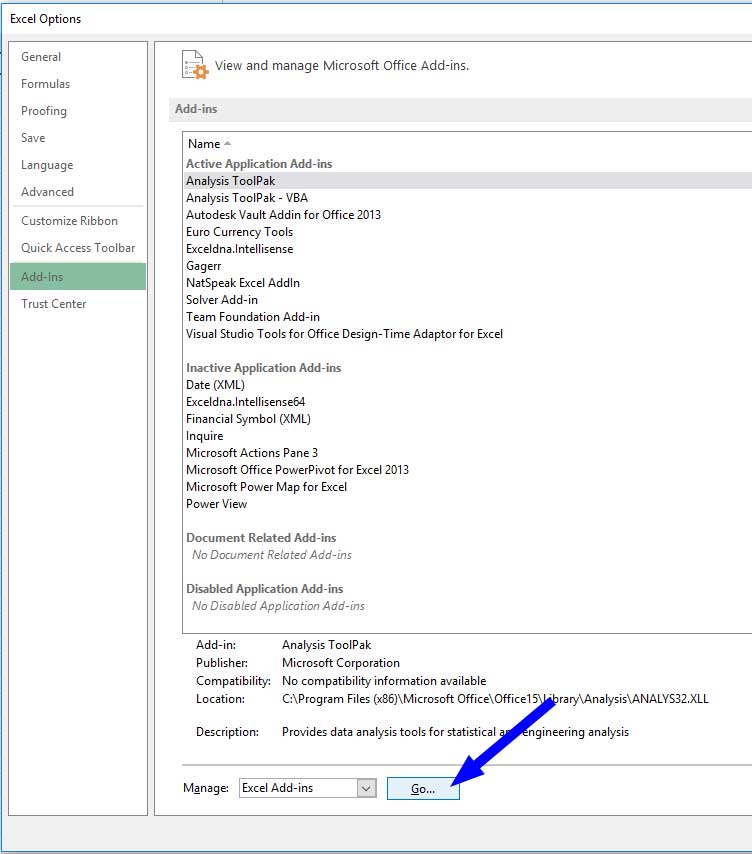 Click 'Browse' in the add-ins dialogue, select the file you just unzipped and ensure it's checked in the list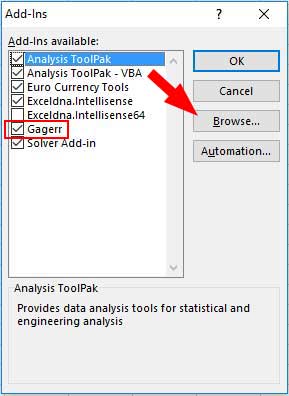 Click OK and restart Excel. The functions will now be available to use and will give correct results. The tooltip help will not appear yet. For that you will need to install another add-in, 'DNA-IntelliSense' which can be downloaded for free and installed using the above process. And that's it, you should be up and running within 5 minutes.
Please do support my paid downloads. They fund all of the free information you enjoy on this site. It's also a lot lot cheaper than a Minitab licence!