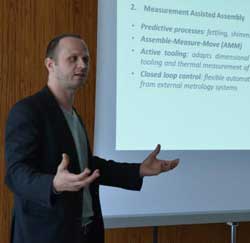 Dr. Muelaner is a Mechanical Engineer with expertise in metrology (the science of measurement) and advanced manufacturing. This site provides information ranging from the basics of metrology and MSA to specific guides such as how to perform a Gage R&R study in Excel. You will also find details of Dr. Muelaner's latest research, often including links to download the full peer-reviewed journal papers.
Dr. Muelaner currently offers the following services:
Consulting: Industrial research and consultancy projects have been carried out for clients ranging from large aerospace companies, such as Airbus and Rolls-Royce, to small local fabrication shops. Work has included the development of metrology assisted assembly processes, state of the art reviews, design for manufacture and machine design.
Training: Past courses have included intensive day courses for industrial engineers and modules for undergraduate and postgraduate students. Currently offered is a  3-day metrology and quality foundation course.
Freelance writing: This website is a popular source of information on metrology topics, it was viewed by 28,000 people last year. Dr. Muelaner also writes engineering and manufacturing articles for a range of other sites and publications.