Design Specification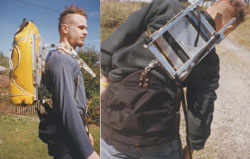 Load carriers are worn on the back as backpacks for leisure and military applications as well as for other uses such as chemical spraying and agricultural machinery. A key design requirement of such systems is generally to transfer weight onto the hips using a hip belt while ensuring that stability is maintained through attachment to the upper back and shoulders.
The Novel Concept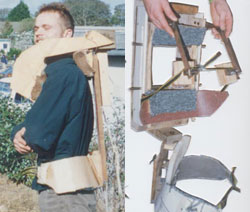 Weight is best carried on the hips. The purpose of a back pack frame is to transfer the weight from the whole pack into the hip belt. Traditional external frames are very rigid and therefore very efficient at transferring the weight to the hips. The problem with this is they restrict upper body movement and, perhaps more importantly, the hips 'rock' when you walk. This causes the whole pack to swing from side to side. This design concept involved placing articulations in a rigid frame so that it is able to achieve an efficient weight transfer to the hips while allowing independent movement of the hips and upper body relative to one another.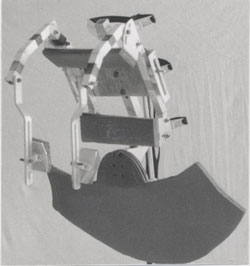 Similar Designs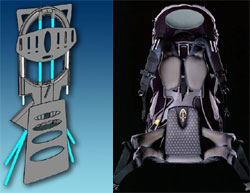 Since I developed this system Berghaus commissioned QinetiQ to design a load carrying chassis for their backpacks. The resulting design conceptually very similar to mine.