I've used EasyChair in the past to submit papers to conferences but until recently I'd never used it to organize a conference. As part of helping to organize the Digital Enterprise Technology Conference in Stuttgart I needed to get to grips with EasyChair properly. I found it to be extremely unintuitive and the documentation/support to be appalling BUT it is a very useful and easy to use system once you know your way around. I therefore thought it would be useful to share my experiences here.
What EasyChair does
EasyChair is a conference management system. This is an online database where authors can submit papers to a conference and panel members make themselves available to review papers. When a paper is submitted it can be tagged as relating to a specific topic. The program committee members specify which topics they have expertise in. The conference chair can then run an algorithm which automatically assigns papers to reviewers. Subsequently personalized batch email can be generated notifying all the panel members of which papers they have been allocated and then notifying authors of the reviewer decisions etc. There are many other options but this should give you then general idea; it should save a lot of work when organizing a conference!
Issues with EasyChair
First let me get the issues I have with EasyChair out of the way before explaining how useful it can be and where to find the options you need. Top of the list has got to be support. The help files and FAQ are very patchy and didn't provide answers to any of the questions I had as I started to explore the interface. Many options are hard to find and when you do find them understanding what they do is a trial and error process. Hopefully this post will address some of these issues for users.
More seriously for a conference management system there is a lack of good data validation options. For example when an author submits a paper I want them to select tick boxes to indicate which topic their paper relates to. I would like validation rules to stop them from being able to submit if they have not selected a topic, or if they have selected more than one topic. I believe these data validation rules are missing, if they exist I haven't found them yet! Similarly when an author is only submitting an abstract they may attach a pdf version of the abstract. The system then thinks it is a full paper, even if they have ticked the box saying "Abstract only"! These issues are troublesome but can be largely mitigated if you are aware of them by providing sufficient guidance in emails and other conference calls.
Conference Organisation Workflow
In this section I will explain how I performed a range of tasks in EasyChair following this workflow:-
Setup the conference in EasyChair
The process of creating a new conference in the EasyChair system is called creating a "new installation". A request is made by logging into EasyChair and selecting EasyChair>New Installation from the main menu. You fill out a form and must then wait for this to be approved, they say normally within a few hours. I attempted to setup a test account to learn the system and I'm still waiting to hear if this will be allowed!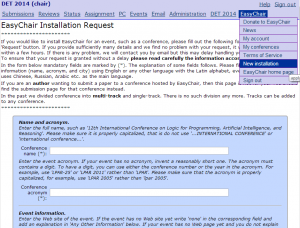 Once the conference is 'installed' you will be able to manage it from within the EasyChair system. You will be able to select it from the main menu command EasyChair>My Conferences. Once selected you will be logged in as a conference chair. While you are logged in as a chair you have different menu options to those visible if you are logged in as an author. You can switch to author using the main menu command Conference Name>Change Role.
The conference is configured using the main menu command Administration>Configure. This takes you to a screen where you can enter details such as the name of the conference and select various options. I'm not clear what all the options do and will add a follow-up post explaining the configuration options when I have a better idea! It is important to define the conference topics at this stage. These will allow authors to indicate the topic of their paper during submission. It is then possible to automatically assign papers to relevant reviewers. In EasyChair there are topics, groups, categories and tracks. I haven't worked out what exactly the differences are between these but topics worked for me.
You create the conference topics on the same  . The conference topics are located under the sub-heading 'Pre-Submission' by clicking on 'Submission topics'. This then takes you to a screen where you can enter topics and section headings for the topics.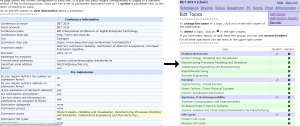 Invite Program Committee Members
You can invite Program Committee (PC) members using the main menu commands PC>Invitations to PC and then selecting Make invitation from the sub-menu. You enter the names and emails of the people you want to invite in a delimited format and a customized email is then sent to them with a link to accept. You should consider that the actual email they will receive will contain a standard invitation text and link before the custom email you compose. If they click the link to accept they will then receive another email with a link to the conference page on EasyChair, this will also inform them that if they do not currently have an account they will need to create one.
Send out Call for Abstracts
Although it is possible to send a call for abstracts from within EasyChair I decided to use a different system. I therefore can't comment on the spending of a call from within EasyChair would work. I used the Newsletter plugin from with iur WordPress site.
It is important to consider how you will be processing the calls and include clear instructions in the call email. This is because the data validation and filtering is weak in EasyChar. For example it is possible to send customised emails to authors who have submitted abstracts only. But if an author attaches a pdf with their abstract then EasyChair thinks the have submitted a full paper. This is the case even if they have ticked the box saying "Abstract only".
I included a warning that a topic must be selected or the reviewer would be automatically assigned. In future I would also include clear instructions that abstracts should be entered in the text box on the form only with no attachments unless a full paper was being submitted.
Review Abstracts
If all the abstracts have been entered correctly it becomes very easy to review them. You can view all abstracts as a single table by selecting the main menu command Reviews>All Papers. There is then a sub-menu command to toggle on and off the display of abstracts.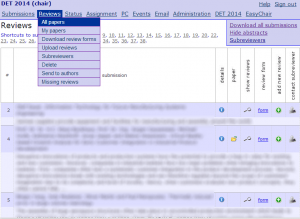 There is no easy way of selecting which are accepted/rejected while reading the abstracts. It is easy enough however to just make a note of this as you read through them.
Accept Abstracts and request Full Papers
Once you have reviewed the abstracts and decided which are accepted.. this article is a work in progress, please check back soon.
Send out Call for Full Papers
Once again I didn't use EasyChair to send the call, I used the Newsletter plugin for wordpress.
I exported emails of those who had already submitted and used Excel to remove these emails.
.. this article is a work in progress, please check back soon.
Assign Papers to Program Committee Members to Review
.. this article is a work in progress, please check back soon.
email Decisions and Comments to Authors
.. this article is a work in progress, please check back soon.
Send out Reminder that Final Paper is Required
.. this article is a work in progress, please check back soon.
Check Final Papers
.. this article is a work in progress, please check back soon.
Produce Conference Proceedings
.. this article is a work in progress, please check back soon.
Lessons Learned
Abstract Submissions
For abstract submissions specifically request that authors do not attach any files. Certainly do not give them an abstract template to complete and attach. Instruct them to enter the text abstract using the online EasyChair form then it will then be very easy to review all the abstracts in a single table. EasyChair will also be able to tell you who has submitted an abstract and who has submitted a full paper. You will then be able to send customized mass email to these groups of authors.